At BeeWits, we understand the value of how a good template can make all the difference to the success of a website or not. As premium users of this WordPress theme, we're in a great position to give an honest Astra theme review.
As an agency, and a provider of software for web designers and agencies, we can truly understand how such a product can make a real difference in the productivity and end-result of a website project.
As you might (or hopefully not) know, the wrong choice of WordPress product for your website can wreak havoc on your project.
For example, in one of our early projects, our client decided late in the project that they might want to implement WooCommerce later on, so a WordPress theme that supports WooCommerce became a requirement.
Having already chosen an item that was NOT built for WooCommerce, we realized that this would have a negative impact on the whole project, we would have to start a lot of the customizations from scratch if we had to opt for a different product at this point.
But should we just stick it to the client? We decided that we'd deal with the problem when (and if) it arises.
But it's clear, that choosing the right tools for a project is essential. And choosing the right WordPress theme for a new website or site upgrade is exactly the same.
The choice of what design to work with is usually taken in the very early phases of a project. This means that the impact on the success of your project is going to be major if you make the wrong choice.
You are likely to discover problems with your choice only when you're in quite an advanced phase of your project. So the right choice of item to work with is crucial to a great project outcome.
Luckily the Astra theme is usually a good all-around choice. And we'll explain why as we go along.
But first, let's start with the basics.
What is the Astra theme?
Astra is one of the most popular free items available on the WordPress.org theme directory. Developed by Brainstorm force, it is one of the first items you'll find featured in the most popular section, besides the default items installed with WordPress such as Twenty Twenty, Twenty Nineteen, and Twenty Seventeen.
Astra has more than 700,00 active installs and a high 5-star rating from 3563 out of 3640 user ratings as at the time of writing of this review making it one of the highest-rated WordPress themes of all time.
Its growth rates compare well with Divi, incidentally, we've also featured 35+ Divi theme examples here). The success of this product from Brainstorm Force is mostly attributed to the fact that it extremely fast, highly customizable and has a stylish look and feel which gives your website a polished feel.
Besides being available as a free download for the WordPress free CMS, there is also the Astra Pro version that can be found on the WPAstra.com website.
As you can probably understand, it is quite an incredible achievement to become one of the most popular items on the WP directory. The even bigger achievement is that this has been achieved in quite a short period of time, with the version 1.0.0 being published in April 2017!
And for the whole time since it has been released, no other commercially supported theme has succeeded in dethroning Astra from this coveted placement.
Astra has achieved excellent commendations, including from the likes of great WP influencers such as Chris Lema, and Ben Pines of Elementor – we will feature some of this praise later on in this Astra theme review.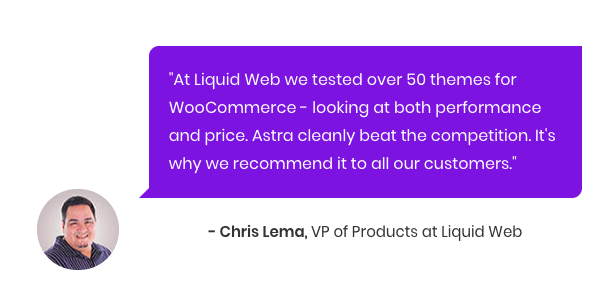 One of the most notable features is that it is lightning fast. This is probably what might have contributed significantly to Astra's popularity and success.
So much so, that the preview version of the Astra theme loads in less than half a second – 384ms to be exact! We ran this on one of the live Starter Site demos, the Outdoor Adventure.
That's truly remarkable performance.
On the WPAstra site, it is claimed that the site actually loads in less than 0.5 seconds, which as can be seen is a result that can be easily achieved.
The reason why the site is so fast is two-fold:
It is less than 50KB in size by default
It avoids the use of jQuery which degrades performance by blocking rendering and uses native Javascript instead
But let's dig a bit deeper and see what it has to offer.
Astra WordPress Theme Features
Pre-built websites
Those who buy a WordPress theme such as this one are clearly looking to set up a website 🙂 Talk about obvious!
But how does one actually shorten the time required to set up such a site?
As has become the norm with the most popular products, WordPress themes no longer come as a blank slate which you have to build from scratch.
On the contrary, Brainstorm Force and other popular vendors now include a number of pre-built website "templates" for lack of a better word, which is set up as part of the actual installation or setup.
These are known as Starter Sites or Starter Templates and are complete sites for specific niches. To mention a few examples, you'll find that there are complete starter sites for
Restaurants
Financial advisors
Various types of agencies
Medic and health-based sites (clinics, doctors, dentists, etc.)
Education and courses
Fitness and Sport
Food and drink
Pets sites
Different types of online stores and eCommerce sites
Online Courses and Learning Management Systems with specific support for LifterLMS and LearnDash
Service providers such as cleaners, plumbers, electricians, etc.
Freelancers, creatives, bloggers, photographers, and artists
Accommodation and travel
Events and conferences
Home, gardening, construction, interior design
Beauty and health
…and many more.
There are more than 100 starter sites available and are sorted according to your preferred page builder. There are different variations of the themes for:
Elementor page builder
Beaver Builder
Brizy
Gutenberg
Note that some of these starter templates are available for certain page builders only, sometimes they are only available for Astra Pro or other premium packages.
Check out the full list of Starter Templates with Demos Now
All of these sites can be imported in your new site in a matter of a few clicks and you can then just customize them to suit the needs of your own site or that of your client.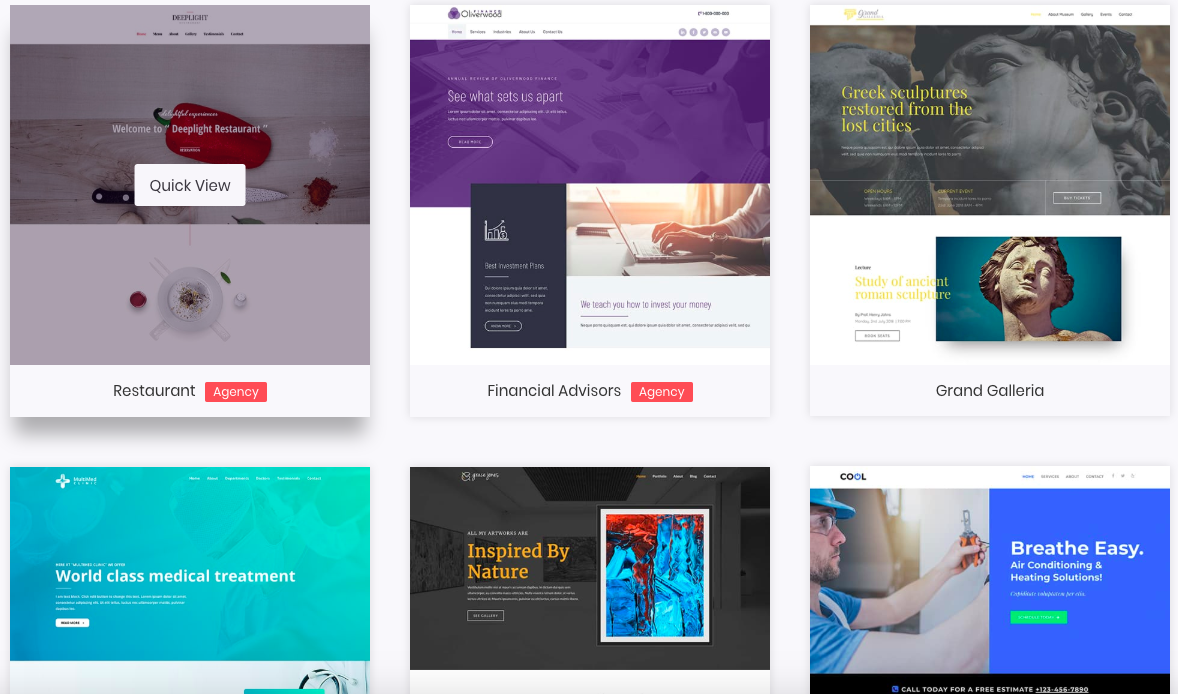 Customization without Code
While up to a few years ago, creating websites was the realm of web designers and developers, who had good coding knowledge, the revolution in the online business industry changed all of that.
Today, websites are created by all kinds of people.
Small business owners, affiliate marketers, bloggers, marketing professionals, and amateurs, design agencies, digital marketers, all have different needs to creates their own specific types of sites.
The number of different types of people who will dabble in creating, updating and maintaining a website keeps growing and growing.
Theme vendors, including the most successful such as Brainstorm Force have shifted their products towards this direction.
Essentially, you'll find that being a web designer, programmer or having coding knowledge is no longer a requirement for creating a website.
Page builders, which we will discuss in the next section, are also an essential part of this no coding concept. Use of a page builder such as Elementor and Beaver Builder is integral to the easy to develop sites and are part of the starter templates.
While we don't believe that web designers are a minority, the number of people who don't have coding experience but are creating their own sites is ever on the increase.
Vendors have shifted their focus accordingly and are designing design WordPress themes and products such as Astra Pro that can be fully-customized without having to touch a single line of code, or dig into HTML, CSS, Javascript and other website coding standards.
Truth be told, developers are actually a very scarce resource these days, and a WordPress template that can be customized without requiring the intervention of a developer will be preferred to one which is developer-oriented.
The Astra theme is easily customizable without requiring any coding knowledge at all, particularly by using all of the configuration options in various sections of the template.
This can be done through various functions:
Layouts – site layouts can be enabled through a feature of Astra Pro, which gives the end-user the option to choose from Boxed, Full Width, Max Width, Padded and Fluid layouts. Spacing can also be adjusted to suit the needs of the user using margins and paddings around elements.
You can use the Site Layout module to customize the overall layout of the site.
Below, you can see the site layout being customized via Appearance > Customize > Global > Container > Site Layout
Header and Footer Options – various header and footer customizations options are available, which can also be extended of opting for the Pro version.
Headers (PRO) – extended header options are available if opting for Astra Pro, such as the Transparent Header, the Sticky Header, Mobile Headers (where you can specify device breakpoints), Page headers, and plenty of other options.
Typography – fonts and typography are one of the items that people would typically want to fully in control of and the product delivers on this aspect. With 700+ Google fonts being fully-integrated and a free Custom Fonts plugin, there is no shortage of fonts to choose from. Additionally, it is easy to control typography size depending on the device to enable full responsiveness, with plenty of additional transformations options such as Text Transform for headings, font-size in PX or EM as you prefer, and other typography options.
Colors and background – given that any site you create needs to conform to your brand colors, the Astra theme is completely flexible and customizable when it comes to this aspect. Headers, content, pages, archives, blogs, sidebars and footers are all completely configurable, although, for some details and fine tweaks, you'll have to opt for the PRO version.
Blog layout – if the site you're planning will also focus on blogs or content marketing, the configurations of the look and feel of your posts are going to be important and you won't be disappointed. All of the layouts are available in Astra Pro, grid, masonry, list, date box, excerpt and others are available. Infinite scrolling and post pagination are also built-in.
Global Design Options – In terms of other design options, the Astra theme also provides plenty of flexibility. The brand's logo can be left-aligned, centered, or right-aligned and there are different layouts you can use for the footer. The Astra Pro theme also allows customizations of the mobile device-specific headers, headers, layouts and custom code above and/or below the content and plenty of other customization options.
Astra 2.0 and other Updates – with the success of the first version of Astra, it was not long before the team decided to take the product onwards and upwards. Version 2.0 and various other updates since have introduced various other features to the theme such as a better Customizer with a better UX, a new Global tab for customizing anything across the site in one place, improved performance and performance tuning options, new Heading Options, and even more customization options.
WooCommerce integration – an important feature which most sites will require these days is full WooCommerce-integration, ensuring that setting up an online shop can be easily achieved through the template which you use or purchase. This product, once again, delivers on this aspect, particularly with the PRO version. Grid layouts for products, infinite scrolling, off-canvas sidebar which can be triggered at the click of a button, a quick view option for product images, various gallery options, a drop-down shopping cart, and other neat integrations.
As we'll discuss in the next section, using a combination of Astra + WooCommerce + Elementor, you can quickly create a great online shop.
How to Build a WooCommerce Website with Elementor
Other Integrations – Besides WooCommerce, this template also integrates with a number of WordPress plugins such as LifterLMS, Learn Dash, has Schema directly integrated and has also been highly-optimized for SEO.
Page Builder Integration
Page builders have been the latest craze for quite some time now with a few of the major products such as the Elementor page builder, Divi, Beaver Builder, Visual Composer, Thrive Architect and a few others slugging it out for popularity.
The latest is, of course, Gutenberg, which since WordPress 5.0 is the default editor.
Astra integrates and works seamlessly with any of these WordPress page builders.
In particular, Astra has very strong support for:
Elementor
Beaver Builder
Brizy
Gutenberg.
In fact, as we mentioned above, the starter templates are categorized by the page builder they were built with. Of course, if you're using another page builder, these should work too, but it would probably be best to confirm with the support team of the vendor to put your mind at rest.
You'll actually find that vendors such as Elementor have actually created tutorials on how to create a whole website using it and the specific builder such as the one below:
Pricing
The Astra theme comes in two main versions. The free version which is downloadable from the WP.org directory is limited in a number of ways.
We're always of the opinion that when designing a website, you should always opt for a premium or Pro version of the products you are using.
First of all, you are supporting the developers of the products, without whom, there won't be such a great industry.
Secondly, by opting for a premium you don't box yourself into the limitations imposed by the free Astra theme. You're also entitled to support from the vendors – we believe that this is the ideal scenario where both players in this transaction are winners.
Nonetheless, if you're not looking to purchase, or maybe are working with somebody who has limited resources, the free version could be an option for you.
The Astra Pro theme also comes in a number of bundles:
Astra Pro ($59)
Mini Agency Bundle ($169)
Agency Bundle ($249
Click to check for discounts in November 2023
As a customer, you can opt either for the Annual or the Lifetime packages of Astra Pro theme.
As the name implies, the annual version needs to be renewed every year, whilst the lifetime is a one-off purchase.
As you can see, the bundles are actually set according to the needs of the buyer. As a one-off buyer, the Astra Pro version is probably more than enough for you.
If you're a repeat web designer or run a marketing or web design agency, the Agency bundle would make more value long-term because it contains all possible functions, including a number of additional plugins for Beaver Builder and Elementor, together with the WordPress Portfolio plugin and more than 100 starter sites for agencies.
Once you actually start using the template, you can probably use this as the 'platform' for many of your future web design projects. In this case, it's ideal and best-value if you opt for the Lifetime deal. Even if you use this for a handful of projects, you've got plenty of value out of it already.
Get the lowest price on Astra Pro or Bundles now
Testimonials
Now that we've seen most of the features available in the template, it's time to look at what other people are saying about this product from Brainstorm Force.
Chris Lema, major WordPress influencer and VP of Products at Liquid Web loves the performance aspect when it comes to working with WooCommerce.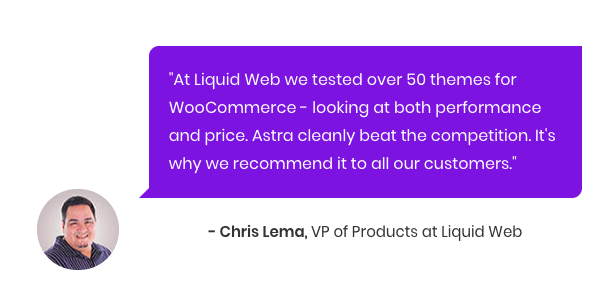 Ben Pines, Chief Marketing Office at Elementor also has plenty of praise for it, which he believes is fast, customizable and recommended for Elementor users.
Frank Goossens of AutOptimize is also a fan, thanks to the performance and lack of jQuery.
If you're still not sure whether to opt for this product or not, you may take comfort in the more than 3500 5-star reviews of the WordPress theme.
Astra Theme Demos
One of the things we've mentioned further up in this review was the starter sites which have been defined using it.
Here are a few examples of the end result of using this template to create a site, so you can imagine what your site could look like if you had to opt for this product.
Websites for restaurants are ever-popular and so we had to feature one of these in our list of demos of templates that are available. Incorporating most of the necessary elements for a catering establishment, it can help designers complete such a project in hours.
Fitness is always a hot niche and the starter site incorporates plenty of great elements focused on conversion, such as great photography, and plenty of Calls to Action, making this a great choice to set up a site in the gym, fitness, or related niche websites.
Blogging has really taken off the last few years. And just setting up a default WP blog with a free template doesn't cut it anymore. So it's great that this particular niche, food, and drink, besides plenty of other niches, have starter templates or ready sites made for them.
As you might expect, these end-users are not focused on design, so it makes plenty of sense to have a ready-made website which they can customize as necessary.
We featured this one, particularly for the eCommerce aspect of it, rather than for the actual niche. Online shops are today are a necessary extension of brick and mortar shops, sometimes replacing these altogether.
Online sales keep growing, so we wanted to make sure we showcased the availability of ready-made sites created and ready for WooCommerce and eCommerce.
The COVID-19 pandemic has also given a huge boost to online shopping and eCommerce.
Designers, agencies, and creatives are also a hot niche. They typically need to stand out from the crowd and this ready-made site helps to do that.
Have a look at this and other ready sites in this niche to see which one is most adapted for you.
Online courses are all the rage these days, particularly in the times of the pandemic and post-pandemic where many classes had to move online to avoid gatherings.
Even beyond the pandemic, online courses have been going from strength to strength. LearnDash is one of the strong contenders when it comes to Learning Management systems and online courses and this starter template is made for this product.
Brandstore is a great eCommerce theme specifically suited for brands. It splits the items available into different categories via the menu and showcases the hot products on the front page.
An excellent set up overall for an online shop with Astra Pro.
Artist is another neat template that can be used for most creative works.
It uses a style that mimics an exhibition, with plenty of white space around the artworks to keep the focus on the pieces themselves rather than the site.
Staying on a creative theme, you can use Astra Photographer that also focuses on the actual imagery on the site. This theme can be used as a portfolio theme, for other creatives that could use a similar style and where showcasing a portfolio is important.
We like the good-use of parallax while still keeping the overall look clean and minimal.
We've only picked up 9 quick examples, but there are more than 280 pre-made websites ready to import and start designing. Click the below to visit all the examples.
One thing which you might want to add to this is a security plugin. As we all know, the popularity of the framework makes it a lucrative target for hackers, so it's essential that you put your mind at rest, by installing a product that takes care of fully-protecting your site. BeeWits recommend iThemes Security, a plugin that we've reviewed and installed on each of our sites.
Wrapping Up
As you can see in the review, the Astra theme is an all-around great choice for your web design project, not only from what we are saying but also from the sheer amount of positive ratings this website is getting across the board. While this product is still young, the company behind it already has a great reputation for creating awesome WordPress products. Astra theme does not disappoint and we wholeheartedly recommend it, both the free and the premium version.