[How To] Write a winning web design proposal (every time) + templates
Don't you just hate presales? Writing a web design proposal can often be tedious, monotonous and feel like a waste of valuable product time.
It's that thing which you have to do right, otherwise, you'll be in serious problems within a few weeks. Yet it feels like such a nag. The trouble is this, you might go through a heck of a lot of work, only to lose the proposal. Wouldn't you rather be working on a project tray end tag style.rather than doing "presales".
Wouldn't it be great if you could write a winning web design proposal every time?
That's we've got lined up in this article. We have a few tips and tricks which will guide you step by step to drawing up the most suitable website design proposal for any kind of client.
Let's dig right in.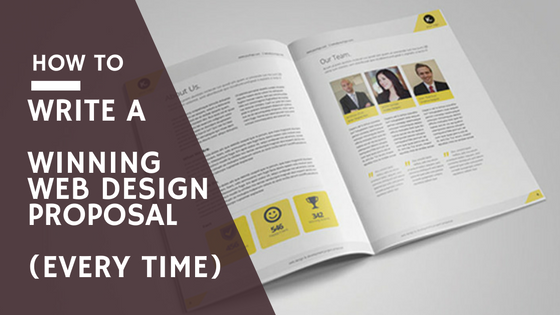 1. Download our web design proposal template bundle
Because at BeeWits we enjoy making your life easier, we've found the best web design proposal template (both in word and in pdf format, together with one which is in In Design ML) and created a nice download for you.
Download the bundle, see which is most suitable for you, customize it to your needs and you're ready to start sending web design proposals!
* Please disable AdBlocker or similar software, or use a browser without the Ad blocking software. Our downloads are broken by Ad blocking browser extensions.
Bonus: Generate your proposal with our free tool
At BeeWits, we enjoy writing free tools which make our (and your) job easier. Proposals take a lot of time and effort, to be done correctly, so we figured out a way how to simplify it.
We simply created a proposal tool, which is based on templates we've discussed here. You just need to enter your own custom info and BOOM – you're done!
More importantly, you can log in to keep the template saved for the next proposal.
Click here to access the tool now: https://www.beewits.com/web-design-proposal-tool/ 
Alternative tool: BetterProposals
Because we don't like being biased and because we strongly believe in giving our readers the choice to make their own informed decisions, we've partnered with a SaaS startup which offers templates to create proposals – it's literally completely done for you.
Have a look at BetterProposals here.
2. How to write a winning web design proposal
The fundamental rule in writing a winning web design proposal is to follow a structure that ultimately, works. You'll need to avoid the stereotypical website proposal that companies keep seeing over and over again. 9/10 times these do not work because they do not stand out.
Besides providing a web design proposal, whose aim is to clarify and establish the roles and goals of the given project – your actual web design proposal should contain the stuff will make you clearly stand out from the crowd.
Whilst the actual website proposal is valuable to the client and you should take your time with it,  it's going to make much more an impact if it is designed to stand out. Make sure you dedicate enough time to it, rather than just be quick to tick it off your to-do list.
Here's a breakdown of the steps you should definitely include in your next website design proposal;
3. Design a beautiful web design proposal
Since one of the main skills required for creating a website is excellent design: your web design proposal needs to be designed to be amazing. Besides writing the actual content, you should assign design time on the proposal such that, it is beautified.
A web design proposal needs to be designed.
Rather than just sending out a quick Word document, with your logo in the header, if you actually take the time to design the final web design proposal document, you're bound to make an immediate visual impact which is going to set the right tone – a positive one.
A professional proposals tool such as our partners – BetterProposals – goes a long way towards creating a beautifully designed document to present to your client.
4. Research the client and tailor the tone of voice
The web design proposal is your opportunity to sell yourself as well as your work. The client probably has other designers lined up so it's crucial you hit the nail on the head in your web design proposal.
So before you even start drafting your web design proposal, research your client meticulously.
Spare no detail, you need to know what brand you're representing to do your work well, there's no room for shortcuts here.
Once you've done your research, your web design proposal should appeal to your client's specific needs.
Use specific examples which will work for them, do not use generic sweeping statements which will get lost in conversation. 

Use bold ideas to confirm your interest in representing the company in your web design proposal. Besides giving the client what they asked for, go above and beyond and suggest new and better ways of getting their messaging across using your website proposal.
Demonstrate very clearly how well you understand the client and mostly importantly their brand. This is their impetus of looking for a web designer and for requiring a web design proposal after all.
For example, rather than saying, "We will use communications and copy to suit your audience", use a specific example, "We will create a video which shows how your tailor-made smartphone plans are designed to bring parents closer to their kids"
It is also in your best interest to study their request for proposal. RFPs generally include background on the issuing organisation and its lines of business, a set of specifications that describe the sought-after solution, and evaluation criteria that disclose how the web design proposals will be graded. RFPs may also include a statement of work, which describes the tasks to be performed by the winning bidder and a timeline for providing deliverables.
Our web design client questionnaire is actually an excellent way of understanding your future client. You have two options, you can either send them the questionnaire before you submit the proposal (if you have a good working relationship with them), or you can "emulate" and figure out what the client would say if they had to fill in the questionnaire here.
Download the questionnaire and use it as your guiding light.
5. Define the problem which your web design proposal will solve
The problem statement must be plainly identified at the start of the web design proposal. Understanding the core predicament of a client's current status will allow you to distinguish your own goals and responsibilities. Fair warning, the client might not feel comfortable discussing the reason their previous web design has failed to achieve the desired goals. This is your moment to shed some positivity and introduce reasons why this time, it will.
Primary issues to consider in defining the problem of the web design might include;
Is this client looking to develop a new ecommerce website which has a better user experience?
Are they looking to improve or refresh their online presence?
Do they want to take their website in a brand new direction?
Do they have a new product which they want to sell?
Secondary problems may include;
Are they looking to get more sales?
Do they want to increase their mailing list?
Do they want to create a better synergy between their website and social media presence?
Are they looking to get more traffic?
Is there a specific traffic channel they want to invest it more than others?
Do they know where they want to invest or do they need guidance from the web designer/agency?
This step will define how the rest of your web design proposal will unfold and it's for this reason that you must be thorough in understanding what was unsuccessful, to be able to find a solution to suit the client.
6. Define how your website proposal will provide a solution
With the central issues surrounding the website proposal established you can proceed to the solution.
You need to draw a balance between explaining how you're going to solve their problem whilst always linking the solution to how you will be an integral part of their success in the web design proposal.
Provide clear ways of how the new or revamped web design will boost their sales and provide that much-needed facelift they have been searching for. Connect the conversations that the client is probably already having internally with your new ideas and solutions.
For example, if your client is looking to improve their online presence you can suggest:
Adding blog posts on an ongoing basis and suggest a blog calendar,

Invest in PPC and suggest ideas and keywords which will probably work. Allay any fears of too much spend by suggesting how you can optimize their PPC campaigns,

Pay close attention to SEO 

Embrace new technologies such as HTTPS and HTTP/2

Think of mobile first in your web design proposal as Google and Facebook keep driving towards a mobile-first world
Social media can amplify the voice of your brand or business, so if your client is looking to create a better synergy between their website and social media presence it's important to suggest a solution in your web design proposal.
Over the past few years, it's evolved into an incredibly useful set of communication tools that can be used to express your company values and beliefs. Remember to offer your target audience a measured amount of transparency. Social media allows you to reveal the personality behind your brand and simultaneously develop a level of trust with your customers. What's more, you'll see the results of your actions immediately.
It's common that service providers are unsuccessful in connecting the dots of the proposed solution to the clearcut business benefits, the things that at the end of the day your clients value and appreciate most. These are aspects to keep in mind no matter the industry you will be working for in the future. In constantly reverting back to the business benefits of the web design proposal, the client will more likely choose you as their web designer.
Dedicate a few paragraphs to your solutions in the website proposal, answering any future questions the client will definitely get back to you with. Be concise and extensive in your list of solutions, it will draw a clearer picture in your client's head. Reference your previous work before the client asks you to, backup your words with examples. This a good time to mention all of the services you provide, for example; if you offer hosting, logo design or even maintenance plans.
Mockups
It's incredible effective when it comes to pitching and communicating with a client to communicate with them directly on the website or result you expect to produce for them.
If you use a product such as ProjectHuddle to mockup and comment on the pages directly, your client is much more likely to have a clearer picture of what the end-result would look like and is much more likely to commit and close the sale.
Even if you commit to using such a tool when the project is given the go-ahead, the client will feel that they will have a direct input and good line of communication with you, putting their mind at rest on a number of concerns.
7. Have a web design proposal specifically about mobile
Once we're talking about creating a web design proposal which stands out, there is one very clear way of standing out from the crowd.
Create ideas centered around how your web design proposal will cater for mobiles/tablets and other devices.
With more and more time spent online happening on devices, it is your responsibility to show your client how you can create a website which caters for a specific mobile user experience.
Rather than just having a website which is responsive, you need to guide the client towards having a website which creates an experience which is designed for a smartphone or designed for a tablet.
Although this may be a pricier option, selling this the right way can really work in your favour.
This is particularly useful if the client is in the ecommerce space, or have a number of products which need to be shown, there are many innovative ways to design a website around the functionality of a device. For example, swiping, creating specific photos to fit exactly within the space of a screen (rather than trying to squeeze too much into the space), specific calls-to-action which apply for mobile.
If you are able to show your client how smartphones can be an integral part of their marketing and sales strategy, your web design proposal will be setting itself for a win.
8. Create a Smart Timeline for delivering your website proposal
Once we're ready from the actual content of our web design proposal ideas, it's time to define the schedule of delivery.
So the next step would be to produce a timeline for the client.
By keeping the client constantly in the loop you will give them a sense of all they might not ask for but will certainly appreciate, so create specific touch points where you will ask for feedback from the client, or where the client will be somewhat involved in the decision making.
Of course, for your own sake, make sure you take into account
further research,

creating of website and page wireframes,

sitemap designs,

initial designs + design revisions,

development of designs or other necessary coding,

setup of CMS and configuration,

testing (specify which browsers and which devices)

debugging,

client testing and setup
These are all phases where client input might be necessary so make sure you clearly show this on your proposed timeline. This will keep your client in the loop and give them a clear breakdown of all the work that THEY need to be doing. Where necessary, create gaps for the client to take their time to respond.
Make sure that the timeline in your web design proposal is easy to read and that all times are based on approximations.
9. Your web design proposal needs clear pricing information
The price tag.
This is one of the places where web design proposals are won or (more frequently) lost.
So let's start with our top essential tip: before you make your web design proposal final, ask your client what their budget is. This might be daunting, you might feel like you're overstepping your bounds or that this is simply information which is not typically shared.
You're wrong.
Having the client's budget before you make a proposal is a win-win situation. The reality is this, your client already has a budget in mind. They know what they are prepared to pay for your next website. They'd obviously rather pay less (than more) but they have a figure already.
Now, if you don't know that figure, you're taking a gamble. Literally, you are gambling – you are spending a bunch of money (your precious time) and hoping that you hit the jackpot. You are picking up a number, and hoping that this number hits the nail on the head. You might be lucky and come close.
More often than not, though, you're either going to overshoot and rule yourself out or underprice the work, leaving plenty of money on the table (or not including certain necessary stuff for fear of inflating the price).
So ask the client for that magic number and then work with it.
Now, once you've got the client's budget, your web design proposal needs to present this information in a way that suits your client. It's in your interest that the client pays and agrees to your terms, so you must present the information in small bite size portions.
Too much information at once will work against you.
Because let's face it, which one looks more attractive?
Website Design Proposal for www.example.com : $20,000
which of course is telling the client nothing of value to them or which shows the amount of work you're going to put into the site
or
Want a web design quotation like the one above? This is our free tool to generate web design and other quotations. There's also our partners at BetterProposals.io who have developed a tool which can generate proposals based on templates in literally minutes.
So let's discuss this in a few more details.
Break things down into very specific items, it will put the client more at ease in your web design proposal.

List the estimated hours necessary to complete the task and how you came to the specific conclusion of the cost, the client will surely feel more comfortable with the web design proposal.

Place all the information the client needs to know in a grid, which is legible and easy to process. This can be referred to as the fee summary.

Keep in mind that your end goal is to fix the client's problems and in your fee summary you should draw out the list as 'Create custom website' and 'Ensure the website is visible in search results' rather than 'WordPress' installation' and ' SEO Audit'.

Steer clear of the over technical jargon, stick to the basics.

You might also want to add a fee installment payment system whereby the client has the option to pay for the web design at separate times rather than one big chunk. This will also help you create a timetable that will aid you to organise your work and keep the client in the loop.
It is beneficial to the client to be able to flip through the proposal at your first meeting and have any of their questions regarding the price of the web design proposal answered immediately.
10. What your client wants and needs
The quintessence of your work is pleasing the client. The website proposal is for their brand, therefore it's crucial that you keep a few things in mind that could quickly escape any of us as we get carried away by our work and could take for granted.
Firstly the client needs access to YOU, so make sure that you have given the client all of your contact information. More than that, you should make them feel comfortable to email you or call with any queries or questions that may arise whenever they need – so make yourself completely accessible. It might be a good idea to mark down a phone meeting to discuss any questions or concerns after the first web design proposal meeting.
Keep in mind that the client (just like you) wants to make more money. If they feel you understand this it will make your job a lot easier. Know their motivation and the driving force behind the revamp of their web design or simply the need for a web design in the first place.
Ensure the client that you will support and maintain the website throughout the process. Also, try and not overcomplicate the small details, keep things simple and build up slowly as you proceed if need be.
Even though the client's intentions are to make more money, this, in turn, does not mean that they willing to spend any amount of money. Show the client that you're not taking him for a ride and be resourceful and economical in your web design proposal.
 11. Create a call to action
At this point, all your cards are on the table, so this where you inform the client what needs to happen to get the ball rolling.  
We're going to take a page right out of web design, and take it offline. We want to create a Call to Action, because this is what the human mind expects.
This gives the potential client the right platform to move forward if he decides to chose your web design proposal.
Use phrases such as 'Contact us at 000-000-000′ to accept the proposal discussed and amend any changes as necessary. You can literally create a call to action button with the Contact us number, so that if there is an internal discussion meeting, they know they can get in touch at that point in time.
(If you get that call, you need to make yourself available – no matter what).
You can also suggest the next parts, such as meeting to sign the web design contract and finally a meeting to kick-off the project and discuss the way forward.  
Incidentally, if you actually need a web design contract, know that we've got your back 😉 Download our pack of essential web design contracts below.
12. Create a website proposal summary
Above we have discussed what should be included in your web design proposal, primarily
client needs

recommended solution
fee summary
next steps
The proposal summary should amount to around 2 pages, what's consequential is that the problem statement, problem solution and pricing information are clearly outlined in your web design proposal summary.   
13. Create a full proposal outline
This proposal is slightly longer and includes the:
Goals and objectives

Recommended solution

Fee summary

Fee schedule

Estimated project schedule

Next steps

Terms and conditions
Add-ons such as the legal information should be attached here. If the client agrees on the day of the meeting he should sign the contract there and then, it will save you both time and you can begin your work.
14. Repeat
The above might seems like a ton of work. And yes, it is. However, it's your first proposal which will be the most difficult. Your next web design proposals after that will come much easier.
15. Finishing touches
Consider adding your own personal flair and make your website design proposal stand out. Create a refined design and use it in your header and footer of our proposal. Use your design elements to a minimum, you want to flaunt your creative ability but not overdo it and make the client feel bombarded and discouraged from your content.
Proofread your work and use spell check, you would be surprised of the tricks your mind plays on you. Do not recycle text as clients will fish it out and this will make them feel as though their brand is not authentic enough for your work.
Make sure to structure the proposal in the most persuasive way possible, keep this in mind and you'll be on your way to web design proposal success.
16. Web Design Proposal Template Downloads
As we normally do with the types of article, we like to make it a bit easier for you by starting you off on the right footing. What we've done is researched and found the best web design proposal template and bundled them up into one download which you can get right here.
Here's what we have in our bundle of web design project samples
Web Design Proposal based on Noam Design's web design proposal template
This Web Design Proposal Template from Web Design law covers all of the legal aspects
Nusil Web Design Proposal Template
BidSketch Web Design Proposal Template
If you're ready to pay a small fee ($12) for a fully designed web proposal template, you might want to look at this bundle from CreativeMarket.
* Please disable AdBlocker or similar software, or use a browser without the Ad blocking software. Our downloads are broken by Ad blocking browser extensions.
We'll keep adding stuff to the bundle as we find even better web design proposal samples and templates to include.
If you are in a position which generates tens or even hundreds of proposals, a more professional tool might be a better options for you – we would recommend you have a look at BetterProposals – a tool we've tried, tested and loved.
Conclusion
Whether you find yourself feeling overwhelmed in drawing up a web design proposal or you need to follow a few simple steps, this comprehensive list will ensure that you cover everything just in time for your next meeting. Website design proposals are essential in providing you and your client with a reliable framework that will help you in writing a winning web design proposal every time.