When you're making the critical decision of choosing the best project management software for your company, there are two names which will come up over and over again – in this post, we will present you with a detailed review and Wrike vs Asana comparison as seen from the eyes of a project manager and team members collaborating on specific tasks and processes.
We had to completely understand the major players in the industry because we had a project that dealt specifically with this industry.
These two of the bigger names when it comes to managing work so we'll be diving deeply into the features, benefits, pricing, problems, and everything else you may need when comparing Asana vs Wrike.
This is a decision you need to get right. The "price" of choosing an option that does not get adopted by everyone can be very high. Besides the training costs and onboarding, if the solution does not get traction, you're going to be facing some very tough situations with your executive.
You really need to get this one. Fortunately, you're in the right place. We know both of these solutions intimately, and we're going to bare it all, so you can take your own decision as necessary, with all the information at your disposal. We've used both systems extensively, starting with Asana and eventually also testing Wrike when some quirks started bugging us.
Let's get started.
What is Wrike?
Wrike is a project management software that enables you to collaborate efficiently and effectively. It works nicely whether you are a remote worker interacting with your colleagues or whether you are an office employee because it enables real-time task management. It's UI is easy to use, plenty of thought has been put into creating a simple UX with straight-forward features making this a great collaboration app. If you're used to a Kanban-style dashboard (which is the hallmark of products such as Trello), you'll find that this option is also available.
(Interested in reading how Trello compares to Asana? Visit our review here: https://www.beewits.com/trello-vs-asana/)
As a company, they are the provider of a cloud-based work, project and task management and team collaboration software, based in Silicon Valley, the San Francisco Bay Area. Founded in 2006 by Andrew Filev, it is today one of the top project management solutions powering thousands of businesses, in fact, it is today used by more than 12,000 companies worldwide, competing with likes of Basecamp, Jira, Trello, Teamwork and of course, Asana amongst plenty of others.
So far, as it the time of writing, it has received three funding rounds, a total of $26M, allowing the company to market and grow aggressively in the last few years.
Wrike Review
As you can see from the below more than 900 Wrike reviews, the product is rated at about 4 stars out of 5 on such sites as Capterra, you'll find that this solution has found itself as one of the providers of choice when it comes to task and project management software and team collaboration.
It includes a number of unique features:
Task management software is its core-function
Minimalist UI with multiple panes focusing specifically on work management and collaboration
Tracking with a dynamic timeline, changing based on progress
In 2012, a freemium version of the product was launched which allowed teams of up to 5 users to use the solution for free.
The beauty is that it works equally well for small businesses and enterprises.
If you have to manage large-scale, enterprise-level teams, you'll find that the depth of the tool will serve you equally well.
The dynamic Gantt charts and timeline can be seen below, which is necessary for a large-scale activity. The beauty of the timeline is that updates in real-time as updates are done, so you can see progress moving along as you and your group complete their respective items.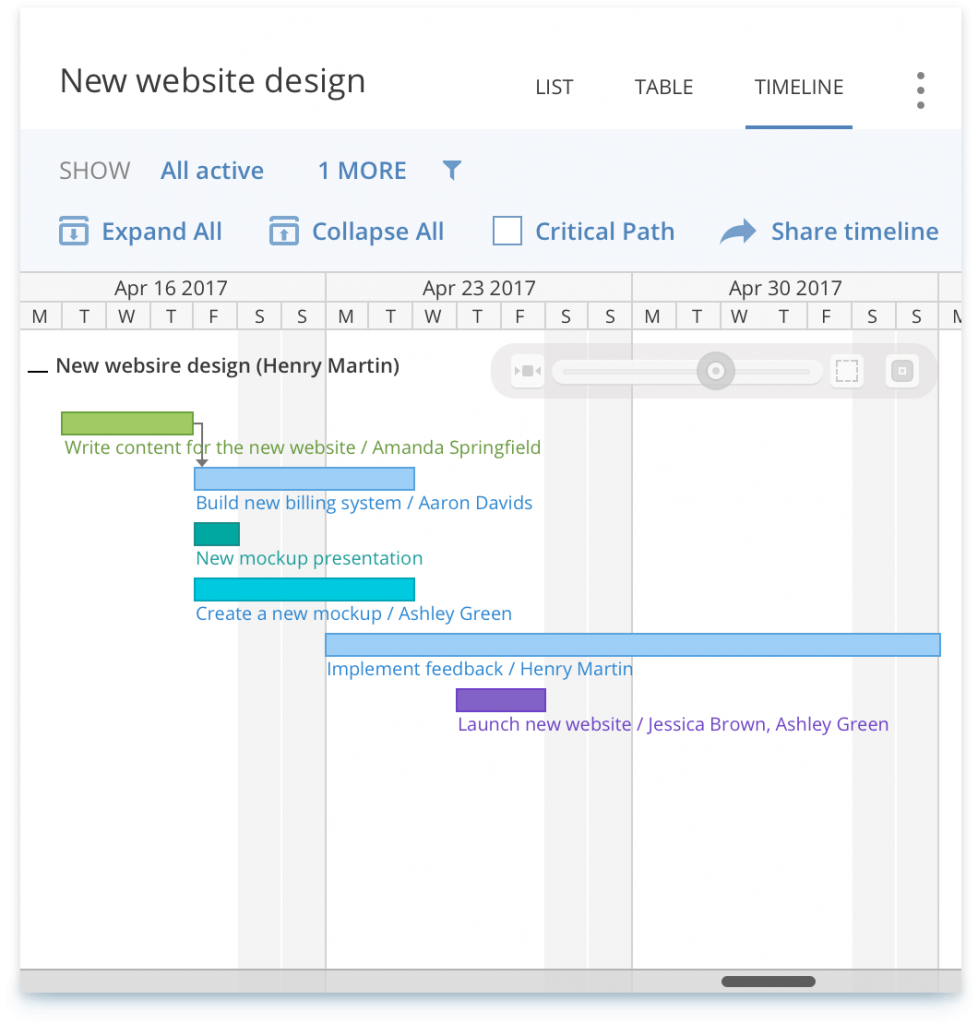 [ultimate_ctation]Start a trial now[/ultimate_ctation]
Features
Now that we've seen a quick summary, let's take a deeper looker at its feature and how the tool actually works.
Team and Project Management
The primary usage, and what is known mostly for, is the team and project management functions. The service organizes itself using folders and multiple projects.
Essentially, you use folders to organize your dashboard – for example, a sensible way to organize your projects could be: by client (if you are a client-facing business), or possibly, by departments within your company (if your jobs are mostly internal). Whatever your choice, you can create folders and then drag and drop your projects around to place them in their rightful place.
It uses a hierarchy of folders to help you manage projects at both a global level and their sub-levels. You can keep creating sub-folders as necessary to create the structure which makes sense for your business.
Knowing that most people will also have their own personal activities, both on a work and on a personal level, by default you'll find a number of already created folders and projects for you to add your personal (private) and any shared jobs. You'll have your own personal Dashboard for your personal or private TODOs.
We've played around a bit with our trial to set up a hybrid of all of these:
Once you've set up your structure, you can start adding your items. You can create, edit, schedule, assign stuff to a team member and eventually delete as necessary. Line items can be color-coded an easier visualization and recognition of common types of tasks, or even the status of the various items.
There are various views you can use to visualize the current progress:
List – a list of all of everything the current folder
Board – this is a Kanban-style view of the items
Table – this shows the name, the start and end date, duration, and status. This is more suited for project managers
Gantt Charts – again, a report for PMs which allows the responsible persons for this activity to estimate the start and end, the full timeline of the plan
Stream – this is a list of the most recent changes which have been happening
Time log – a list of the time spent which has been logged (useful for determining effort spent on a project or part thereof)
Workload – this allows a PM to see which the workload per resource, so that one can determine where resources are overbooked or not being used to capacity
Analytics – this is a summary of the most relevant details, using charts and other visual cues
This is an absolutely comprehensive way of visualizing a project which works for all of the stakeholders of an activity. While the actual employees are more inclined to use List and Board views, PMs, managers and other higher-level employees have all the views necessary for them to be able to manage multiple projects effectively.
Each of these has been well designed and developed to give exactly the user the information which they need at that point. We particularly like the Time Log (excellent for invoicing purposes) and the Workload which is great for scheduling resources to be as productive and efficient as possible.
Another useful feature we find is the integrated file sharing feature. Essentially, you can just drop shared files into tasks as necessary, rather than requiring a 3rd-party tool for file sharing capabilities such as Dropbox.
Describing each of these in detail is going to be somewhat difficult to explain in an article, so at this point, we highly recommend that you start a trial for yourself so you can have a first-hand experience of these views.
[ultimate_ctation]Start a 14-day trial now[/ultimate_ctation]
3rd party-integrations
Functions of project and task management software are all well and good, and the features of Wrike doesn't miss out on anything, but they're not particularly ground-breaking. Where the sweet spot lies is in the integration with 3rd party services.
You might wonder why we feel that this is a particularly important feature?
This we feel is actually critical to the success of onboarding your business's users. You might have already experienced this before, but people absolutely HATE changing their established ways.
Any introduction of a new way of doing things is going to be met with complaining, grumbling, resistance, lack of co-operation, and possibly a change in the mood of the company, particularly if they feel that the change is either forced upon them, or forcing them to change their ways.
This is why integration with the tools they use already is vital to the adoption of the tool.
And this is where the product shines. It supports integration with a large number of major 3rd party apps through the following
Native Android / iOS apps
Desktop apps for Windows and Mac
TODO – a new Chrome tab where you can store notes
Adobe Creative Cloud Extension
Outlook integration
Microsoft Office integrations
Slack extension
Gmail / G Suite
Hangouts Chat integration
Chrome extension
Salesforce
Jira two-way sync
Github two-way sync
Zapier
Document Editor
Google Drive / Dropbox
As you can see, instead of changing the way things are done, it simply places itself within the tools your users already use. This makes adoption a breeze, with little to no resistance to change. Users can keep working in their own way, just slipping in tasks into projects, or pulling from it as necessary.
A particularly sweet feature is the fantastic email integration feature. Essentially, this is a feature where you can add activities and email threads and conversations by forwarding an email.
After you've set up the email integration (available for most email providers), you can simply send the email to or cc (carbon copy) [email protected] when sending an email. It will then parse the contents of that email and added. You can also send items to pre-determined folders or assign them to different people.
Neat right?
API
Although we do believe that the integrations are extensive, there's still the possibility to do even further thanks to the API. As you may know, the API can be used to perform custom development to connect your own business applications and processes to it, essentially creating your own custom integration.
The Developers site – has full API documentation and other necessary functions (such as API keys) and anything else required to create your custom integration with the app.
Real-time Updates and Editing
As the product is a cloud-based SaaS which is fully online, all changes and updates are immediately reflected with the rest of the users and collaborators on the teams and activities – this is the real-time aspect of it all.
Given that everybody is working on the "latest version", there's no need for any guesswork. All team collaboration members are seeing the current status of the plan and their own progress, while the PO (Owner or Manager) and other stakeholders can assess the progress of the schedule – no need for any guesswork, or estimates.
Whether changes are to the status, descriptions, comments, people assigned or time spent, any change, whether large or small is immediately available for the rest to see.
Which brings us to the reporting aspect.
Real-time and Interactive Reporting
We found that by using real-time Reports, a typical marketing team of 10 can save at least 10-15 hours per week on status updates and account management work, effectively giving you back an entire workday. ~ Dmitry Petrashev, Product Manager at Wrike.
A strong requirement is a need for excellent reporting and business intelligence.
Most times, there are two aspects to reporting
Current status of a plan (latest updates)
Point-in-time reporting (status at a certain date, e.g. weekly, monthly, etc)
While most will be great at providing the current status, this software goes beyond. One of the more recent updates released is the availability of the Report Snapshots. This is essentially a snapshot of the status of jobs at a particular moment in time.
This is important when businesses require the availability of reports and progress as it happened over a period of time, rather than simply the current state of work.
These reports include weekly status updates, the performance of different groups, activity reports and accomplishments. As this is typically the requirement of larger businesses, this feature is available on Enterprise plans.
Of course, current status reports are also fully available. Some of the plans also allow the user to design their own reports to suit their own needs.
Really and truly, the reporting is extensive and very mature, and we can't envisage a scenario that is not fully served by the software.
[ultimate_ctation]Start a reporting trial now[/ultimate_ctation]
Advanced Custom Team Workflows
(This feature is part of Labs – a concept where early access updates are released to users for feedback.)
Processes in teams working within different niches tend to differ significantly. What works well for digital marketing, is typically very different from what works for construction. Teams within different niches, industries, and even in the same niches but different companies, will have different ways of working.
The tool has developed custom workflows specifically because they fully understand this requirement.
Once again, rather than expecting staff to fit around the software, it is the software which immerses itself within the processes of the team.
The concept of custom workflows allows certain actions to be performed automatically based on particular conditions.
But how do you define a workflow?
By default, a workflow is made up of four groups:
Active
Completed
Deferred
Cancelled
Business and Enterprise accounts are able to define their own custom statuses as necessary for their own needs. Generally, the PO or admin creates the workflows and also has permission to make any edits. Once the changes are saved, your people will be able to see the new workflow created.
The next steps are the assignment of workflows to different teams or projects. You do this by clicking on the folder and changing the workflow setting attached to that folder.
Let's mention a typical workflow that happens in most organizations.
First, you would require the approval of a plan. Once this has been approved, tasks and content are created to flesh out the plan which needs to happen. While software development might be defined as "Design and Development", you'll find that most other kinds of projects also have a Design and Development phases albeit under different names such as Definition, Implementation, Planning etc.
Once the job(s) is in progress, problems are bound to be discovered, which need to be resolved. While in software development this is called Issue Tracking, you'll find that this is also required in most other industries. It's still Issue Tracking though and deserves to have a dedicated section all to itself.
Templates
Another great feature, which is one that helps takes workflows to the next level is the concept of templates.
Templates are grouped under
General Purpose
IT & engineering
Marketing
and handle anything from Complex Project with Phases, to Professional Services, Kanban, Marketing plans, Product Launches, Evening and many others.
One issue we have with templates is that there is no way to actually customize or create your own templates for your own particular needs (BeeWits actually allows you to define your own templates).
In spite of this, we do believe this feature to be an essential part of all project management solutions, so we're glad this has been built into the app too.
Workload management
Given that SCRUM has become an integral part of work management, not just in software development projects, but across much more varied industries, one would expect that such features and functions associated with SCRUM would make their way into PM solutions.
Visualisation of effort by assignee is one of the crucial aspects of managing.
This is what Workload is all about – it allows you to check whether resources are over (or under) worked, so you can performing scheduling to be as efficient and productive as possible.
Once you find that some of your resources are overworked, or maybe they are absent or otherwise indisposed, within this actual screen you can shift stuff around (assigning them to different resources in the process) to reschedule and reassign as necessary.
As you make such changes, assignees who have had changes get notified (you'll also be able to see this in the Stream report).
Dashboard, Analytics, and Reporting Widgets
We've already mentioned how analysis and reporting is a key differentiator when it comes to choosing a project managing tool.
This SaaS delivers on this aspect in various ways. Various reports we've shown so far allow you to analyze progress from various aspects, whether from a progress perspective, resourcing and workload, current status, etc.
By default, a Dashboard presents an intuitive visualization which is intended for people working on these tasks:
Unassigned (great for the PO or for people to pick up pending items)
Overdue (to give attention to high-priority items)
Due this week (to schedule time according to due dates)
Completed this week (to monitor progress and maintain pace)
But that's not all there is to it.
The Analytics Widget can be used to get a brief overview of the status and individual workloads within an activity. There's actually a full list of widgets you can add to your dashboard such that you create a view that makes sense for you, rather than use something generic.
These are some of the widgets available (most of which are pretty self-explanatory)
 Projects Widget (to easily track work filtered by owner, folder or status)
Files by Project (for quick access to files from selected activities or folders)
Active Tasks by Assignee (list assigned to a person)
Tasks by Status (to track the status of jobs)
Assigned to Me
To DO Today/This Week
My Overdue Tasks
Overdue tasks I created
Tasks I Follow
My Pending Reviews
My Backlog
Conflicts Monitor
Activity Stream
Custom Widget
As can be seen, the various widgets with various views available can allow you to define a custom dashboard that makes sense for each individual. Each widget is named, parameterized and can be filtered further to create an appropriate data view.
The custom widget is also interesting. This is an "open" widget, which can be completely parameterized and filtered to create a report of what you need.
Analytics
Besides customizing and creating dashboards and widgets to suit your needs, there is also a very thorough and visual Analytics dashboard.
This is another way of analysing, but this time, it's all based on charts and other visual cues.
Once again, the beauty comes from the customization options available. You don't have to stick with what comes out of the box, you can tune and create your own charts as necessary for you.
Performance Chart: Using this chart you can quickly find outliers and problems and measure progress effectively. You can create your own filters to have an effective performance chart based on
All tasks,
Planned tasks,
Completed,
Due by this week,
Overdue,
Total Tasks
A performance chart looks like this:
Baseline chart: This is typically very valuable for managers and other stakeholders. It is a comparison chart between the current state and the original plan.
Work progress: As the name clearly implies, this is a holistic view of the progress of individual team members – essentially to be able to monitor productivity (both underperforming or exceeding expectations).
Gantt Charts: For PMs, this chart is the default way in which they visualize work.
Simply explained, a Gantt chart is a visual view over time – and this is exactly what is presented in this, but for a PM who is looking at things from a resourcing and work perspective, this gives them a bird's eye overview, something which is critical to their function. This will help managers or POs to understand whether things are progressing when they are scheduled to end, and how activities or sub-activities are impacting each other when running simultaneously.
If you're looking for a more detailed understanding of these charts, this is an excellent read: What is a Gantt chart?
What makes up a Gantt chart?
Timeline showing days, months, years
How activities depend on each other (using lines and arrows)
How long (full durations) each task is planned to take
Color codes associated with status (scheduled, on schedule, complete etc.)
See below a chart based on the example we've been using:
Wrike for Enterprise
We've already mentioned that this is actually a service which works nicely for companies of any size, from a few users to tens of thousands of users.
In fact, one of the niches which they cater to is for larger sized companies through Wrike for Enterprise. In reality, as we'll discuss below in the pricing section, the tiers are planned for
Free (1-5 users)
Professional (5, 10, 15 users)
Small Business (5 – 200 users)
Marketers (5 – Unlimited)
Enterprise (5 – Unlimited)
The Enterprise tier, in fact, has a number of options that are not available on the lower-tiered plans. From a governance point, the below are a necessity for large organizations, who typically need to be able to prove that certain measures are in place (to be able to use specific software services)
Active directory integration (to be able to use your own Authentication mechanisms, usernames, and passwords)
SAML 2.0 SSO (Single sign-on)
Two-factor authentication
Password policies
IT Administrator enforced permissions policies
User audit reports
Network access and compliance policies
From 100Gb of storage + 15Gb of video uploads (per month)
The above are over and above the standard included with the other plans. Below are a few highlights:
Easy collaborations

Live editing (updates are seen in real-time)
Single source – Tracking documents, images and everything on one workspace
Real-time reports, work statuses, and activity streams

Project Management tool

Full PM capabilities – everything like portfolio management, individual work, and large programs
Easy tracking
Resourcing: Assign, track time and schedule activities
Advanced Analytics

High-end Security

User groups and custom permissions
OKTA & SAML integration
SSL 128 Bit Encryption
SSAE 16 Certified Data Centers

Premium Services and Support

Chats, emails and customer support over the phone
Planned and Extended consultancy
Implementation and change management consulting

Business-oriented and Personalised view

Easily fits any team's workflows
Custom fields and statuses for effective budgeting, prioritizing and customizing workflows
Integrations with Salesforce, Google Apps, Box, Dropbox, and other popular 3rd parties
The product actually promises growth in productivity by 20%-55% for an enterprise that is currently not using a PM tool.
How it can help businesses manage their functions
Besides plenty of other companies, one of the businesses using this PM tool is Hootsuite – a social media marketing software. Hootsuite was struggling to find a way to manage projects and their activities as the company kept growing, due to the increase in the volume and consequently a lack of visibility.
It provided a centralized location to handle the large volume of activities and report on productivity.
"We've got a specific structure that we've set up in Wrike so we can look at our campaigns and releases by quarter, and compare quarter over quarter what we're doing," says Chalmers, "I report quarterly to executives on how many projects we've done and how long it takes us to go to market. We're constantly wanting to make sure we're remaining stable or getting faster at what we do."

Particularly for marketing agencies, who do a lot of video production, the tool includes an extension for Adobe Creative Cloud, so integrates directly with the tools of the company. Of course, it also includes tools for projects and tasks that require managerial supervisions like reviews and approvals.

Features which make sense for an agency include:
Resource and Workload Management
Document versioning
Task templates
Time tracking and budgeting
Besides supporting such agencies, the tool also has solutions for project managers.
TGI Friday's (a company with a worldwide workforce of more than 74,000 employees) has also used the tool to improve their workflow.
Prior to using the service, their large, cross-functional activities were managed through Word and Excel, which was greatly overwhelming for them (managing large numbers of items with Excel is a nightmare).
"At one time I was managing one file with 15 tabs, but I wasn't able to understand how projects overlap and understand the critical path of projects. Things were lost in email. We couldn't find the latest attachment, or it was out of date," says Kimberly Otte, Menu Innovation Project Manager.

"It takes things to another level. Keeping track of every detail and every task to ensure all elements are in place on launch day was a challenge; it enables us to do it more accurately, thereby decreasing our costs."
The manager has tons of work to divvy up, but individual team members don't have to be stressed. It takes complex activities and makes them simple for the people in your organization.
For project managers, the tool has developed a robust and practical solution to foster success and a collaboration loved by all. Some of the things included which make this happen include
Timeline with Critical path (Gantt Charts)
Managing Resource and Workload
Cross-group collaborations
Custom status and workflows
Real-time status updates
Visual dashboards and interactive reporting.
Wrike Pricing
When it comes to price, the company is pretty flexible to the needs of various businesses and their needs and gives you four plans to choose from.
Small companies that are looking to improve their working processes can start with the FREE plan (this up to 5 users).
Beyond 5 users or if you are looking to access some of the premium options, the paid plans start from $9.80/user/month. Priced quoted here are on a per-user/month basis (if billed on an annual basis).
All plans have a free trial for 14 days included.
Free
Professional (can be bought in steps of 5 up to 15 users – $9.80/user/month)
Small Business (from 5 up to 200 users – $24.80/user/month)
Marketers (from 5 up to unlimited – $24.60/user/month)
Enterprise (from 5 up to unlimited – custom pricing)
We would recommend that you visit the website to be able to compare the various items which are included with the different tiers.
[ultimate_ctation]Visit Website to Compare Plans[/ultimate_ctation]
Overall Summary
We do strongly believe that this is a robust solution for any company that requires any sort of task list and project management software whether they are marketers, project managers, agencies, and/or leaders. The UX is clean and intuitive, the product is advanced and very mature and it clearly has been designed specifically to help you eliminate bottlenecks in collaboration and managing work.
We think this is one of the strongest contenders out there and highly suggest that companies looking for a solution to their pains start a free trial using the above-reviewed software.
Now that we've discussed the main contender of this article, we'll move on to the next strong competitor – Asana.
This tool is also of roughly the same age and maturity, given that Asana has gone into the market roughly one year before its competitor.
Also, one of the most popular ways of managing tasks and projects, Asana has built a strong reputation for it ease of use and great feature set.
While we believe both are great, we are still of the opinion that Wrike has taken the edge, but let's compare these two head-to-head in detail.
Wrike vs Asana
Asana's core feature set is task management. There are plenty of aspects which are common to both are:
Task management
Reporting and work progress
Document management
Available on iOS, Android  native apps
Wrike offers a number of features such as
Time Tracking,
Budgeting,
Resource Management and customer support make it a complete winner in an Asana vs Wrike comparison.
Asana does not have the option to track duration. You can schedule and create tasks, edit as necessary and tag people, but you cannot calculate the exact amount of time it is taking. The timer makes it possible to understand the duration and plan accordingly.
Also, the colour codes for statuses makes it very easy to understand what's going on at a glance. Asana only has checkmarks to show the completion status.
Enterprises can track budgets on Wrike – budgeting is not available on Asana. Budgeting and forecasting is a necessity in large companies and this makes the former a winner in this regard. As a PM or executive, you can configure each project's budgets. Of course, visibility of budget tracking can be restricted to specific users, hence keeping it secure.
When it comes to tasks, both enable you to create, assign, reassign, edit and schedule activities. However, Wrike offers an additional Workload overview. This is essential for PMs and POs, even leaders and managers – you wouldn't be able to figure out whether certain employees are overloaded without this. Asana does not offer this visibility.
Finally, there is phone support and premium support (at an additional fee) is offered by Wrike only. Of course, both provide support.
[ultimate_ctation]Start a  Free Trial Today[/ultimate_ctation]
Now that's we're done with our extensive review, let's move to one of its strongest competitors: Asana.
Overview of Asana
Before we start our actual comparison of these two top PM tools, let's have a deep look at what it can offer in terms of its functions.
We've already discussed how the first tool we've seen has focused a lot on creating a great user experience, but Asana also has an excellent and intuitive UX. One can go from being a newbie, to be productive in a matter of minutes, the onboarding experience is dead-simple.
Here is one of our clients being managed:
Management tool – Create, schedule, assign and review progress – this is the primary focus of this software, you can rest assured that anything around tasks can be very easily done.
Inbox – the Inbox is a personal point of contact for each user, it includes important daily updates such as newly assigned to me, pending, and any other updates that concern the individual currently logged in.
Checkmarks –  to indicate completion, and know what is Done and what is In Progress
Customised workflows
Hearts and bookmarks – to give a social look and feel to the tool, to mark important or priority items, or give thumbs up or 'like' to certain items.
Document management (integrated with cloud storage services) – within items you can add attachments from your own computer, GoogDriveive, Dropbox, Box and others
Comments and collaboration with direct commenting using tagging with @mentions
Powerful search capabilities
Easy to understand.
Calendar to know when a job is done or due
Gallery View to see files that have been attached or find them individually.
Collaborate with external entities such as vendors, contractors, and partners.
Asana has also been competing strongly with Trello, and for that reason, a recent introduction has been the new Board – which of course, is very reminiscent of Trello boards (Read our complete review of Trello vs Asana here).
Besides the basic stuff available with the standard version, premium account holders will also benefit from the following additional functionality
Private projects – activities which are only visible to some members
Dependencies – an essential feature for project managers which set the order/priority tasks have to be completed
Unlimited dashboards
Up to 15 member and unlimited guests
SSO and SAML
Data export
Just like its competitor, this software also has integrations with a number of popular 3rd parties, particularly important for file sharing – common integrations to both are:
Slack,
Dropbox,
Box,
Chrome,
Google Drive and more.
The full integration list can also be found if you need to check whether integration is provided with your software of choice.
Asana for niche teams
Just like the other PM tool's varied solutions, Asana also has solutions designed for various company teams, but is particularly focused on marketing, Project Management and executives. Besides these though, the latter has been proven in these departments:
Company-wide
Design
Product
IT Departments
Human Resources
Finance
Sales
Engineering
Event Planning
In reality, any organization which works based on projects and/or tasks will find benefits from working with such a tool. There are templates for starting an activity so that rather than starting from a blank slate, you can have a number of items already created and then you can customize as necessary.
There are the following templates already defined
Onboarding (to learn how to use the tool)
Meeting Agenda
Company Goals and Milestones (Premium)
New Employee Onboarding (Premium)
Event Planning (Premium)
Product Launches (Premium)
Editorial Calendar (Premium)
Custom Templates (Premium)
As you can see, their real power comes with being a premium user. But for a moment, let's dig a bit deeper into 3 niches.
Marketing Teams
As with most organization's needs, you can track your activity from the start until it has been fully completed.
Running campaigns with your email marketing software is easy and smooth using tasks and due dates
The Editorial calendar gives an overview of the entire content planning for a blog or website
Event Management is helpful when you need to plan an event for your company or one of your clients
Project Management Tools
In terms of the needs of PMs and Project Owners, this SaaS enables planning in such a way to take note of progress, create a roadmap and manage projects such as successfully planning a launch of any type of product.
It helps managers stay on the ball, by:
Setting goals and outline a strategy to be followed
Create custom reports to track performance and various insights
Plan smartly using one-on-one meetings and tracking an individual's professional development
API
Given that this is a Wrike and Asana article, both products are head-to-head here since the latter also has a RESTful API interface. The API also has the concept of connectors,  a secure way of granting API access to third-party apps without divulging your username and password, or other important credentials. As with any API, this gives a lot of strength to the platform, because it gives you the flexibility to cater to your own needs.
Asana Pricing
When it comes to an Asana vs Wrike comparison in terms of pricing, the former has very straight-forward pricing plans, unlike the other tool which has a number of different tiers.
It's either free (up to 15 people) or you pay if you want to go for Premium plans and options.
The FREE plan is for teams having up to 15 members, so anything above that and you'll need to go premium. The Premium plan is priced at $9.99/user/month (billed annually) or $11.99 (if billed monthly) which is slightly more expensive than its competitor (billed annually).
There is a bit of an issue in that you cannot purchase the Premium for less than 5 accounts. This means that freelancers and small companies who have less than 5 members, need to purchase the 5-member plan if they want to go premium.
Having said that, the beauty of the tool comes in the fact that it is free for up to 15 members.
Alternatives
Considering Asana vs Wrike for managing your teams is great. However, these are not the only options available out there. We've already discussed Trello above. There are also quite a large number of PM tools available, which we have featured in our Project Management software article.
Even when considering other options, one must make this important note.
Capterra, a website which is focused on testing and providing reviews of SaaS services, see who has been given the top spot, after Microsoft Project (which is not strictly SaaS).
In fact, it has even edged out other major players like Basecamp. The graphic below from Capterra shows the top 6:
Even given the above, our recommendation would be yes, try out Asana, but definitely make sure you run one of your projects on Wrike, before you make your final decision.
[ultimate_ctation]Start a Wrike free trial now[/ultimate_ctation]
Summary
While when you compare Wrike vs Asana at first glance, you might feel that both of these are mostly similar, when digging deeper you'll discover that the former has a much broader set of features which allows them to cater specifically to a much larger audience. The extensive customization also allows you to define "your own process" and make sure that you make it work the way you need it.
Although both are a great choice, we do feel that Wrike has the edge when it comes to an overall evaluation of both tools.